Conventional Mortgage Loan Requirements
Conventional Mortgage Loan Requirements
Use the information below as basic guideline on how banks and mortgage companies determine if you are qualified for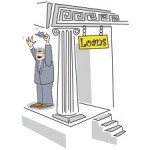 various types of home loans including Conventional, FHA, VA, etc.
BANKRUPTCY: Can vary from 1-3 years from final discharge date depending on the loan program and lender.
FORECLOSURE: Can vary from 1-3 years from final discharge date depending on the loan program and lender.
LATE PAYMENTS: Most loan guidelines will require a minimum of 12 months (1 year) with no late payments on a credit report. If credit has been excellent for years, and a minor late payment occurs, it may be acceptable with explanation. A late payment for installment loans or credit card accounts usually only appears on a credit report if a payment, or minimum required payment, is 30 days late or more.
DEFAULTED STUDENT LOANS: Generally if a government guaranteed student loan is in default, this will disqualify a person for a mortgage. Sometimes if a loan repayment schedule has been renegotiated and payments are timely again for at least a year, the history of the defaulted loan might not disqualify the borrower.
COLLECTIONS: Generally any account which is in collection status must be repaid before qualifying for a mortgage loan, medical bills may allow an exception.
JUDGMENTS: Generally, any court ordered judgment must be paid in full. In cases of court ordered child support payments, the payments must be caught up and current.
SELF-EMPLOYMENT AND COMMISSION-BASED INCOME: If a borrower has been in the same line of work for 2 or more years and a lender has a "self employment" loan program, self-employment income and commission income can be used as "qualifying" income for a mortgage loan under a bank statement program.  For further guidelines, consult a mortgage broker.
OVERTIME AND BONUS INCOME: In most cases a lender will count overtime or bonus pay as "qualifying" income if the borrower has a history of overtime or bonus pay from the borrower's current employer for at least one to two years (usually two years). The employer must verify the number of overtime hours or anticipated bonus income that is likely to continue for it to be used as "qualifying" income.
INCOME FROM A SECOND JOB: If a borrower works at two jobs, the income from the secondary job (usually a second part-time job) is often only able to be included as qualifying income if the borrower has had a continuing history of working two jobs for at least two years.
CHILD SUPPORT INCOME: Income from child support needs to be received consistently to be used as "qualifying" income. Often a history of payments is required, so newly awarded child support payments might not be considered "qualifying" income in some circumstances.
LAWSUITS OR PENDING DIVORCE: If a borrower is being sued, or is otherwise involved in legal actions such as a pending divorce, often a mortgage loan cannot be granted until the lawsuit is settled.
Self Employed Mortgage Qualifier
Determine if you can save money (refinance) or pre-qualify for a purchase
MortgageWholesale.com © 2019 All rights reserved